Has your Springfield, Illinois kitchen seen better days, but you don't have the budget to replace your outdated and worn cabinets and countertops? The experts at NU Tub can help. We have perfected the art of countertop and cabinet refinishing. The value is not only in a job well done but also in the money it will save you in the long run.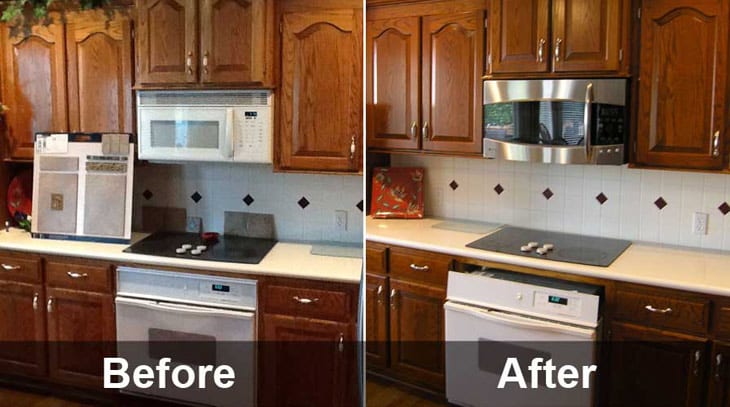 Cabinet Refinishing at Its Finest
Whether you want to completely change the color of your cabinets or simply refresh the current look, our experts can make your scratched and dull cabinets shine without the need to buy a new product. We've found that with cabinet refinishing, you can pay half as much as if you replaced the cabinets and hardware. That's real money in the bank that you can use for other remodeling projects. 
The kitchen can often be the hub of the home. Life doesn't slow down just because it's in need of a remodel. That's why our cabinet refinishing process is ideal for the busy family. We can refinish the cabinets in a timely manner without the struggle of living in a demolition zone. It's easy, cost-effective, and the results are beautiful.
Make Old Countertops Like New
Your well-loved kitchen countertop has been used for everything from a place to cut your vegetables to the place where you have late-night conversations with your loved ones. All that use can leave your countertop dingy, chipped, and in need of an update. Instead of replacing the countertops, refinish them at a fraction of the cost and over the course of a single day. No plumber or demolishing service required.
We offer a wide selection of color options for countertop refinishing, so there is something to fit most every kitchen design. When you see the finished product, it will feel like a whole new space without all the replacement costs. That's an outcome you can take to the bank.
For an easy and cost-effective way to update your kitchen, contact NU Tub online for a free quote, or call us at (217) 522-1850. We know your kitchen is important to you, so let us help you give it a fresh, new look at a fraction of the cost.