Kitchen cabinets take a lot of abuse over the years. Exposure to grease, heat, sharp utensils, and spills can leave them looking dingy and damaged. If your kitchen cabinets need a facelift, call NU Tub in Springfield, IL. Our cabinet refinishing services will completely transform the look of your kitchen for a fraction of the cost of replacement. Plus, once refinished, the surface of your cabinets will be more durable than it was to begin with, providing you with a beautiful, quality kitchen for years to come.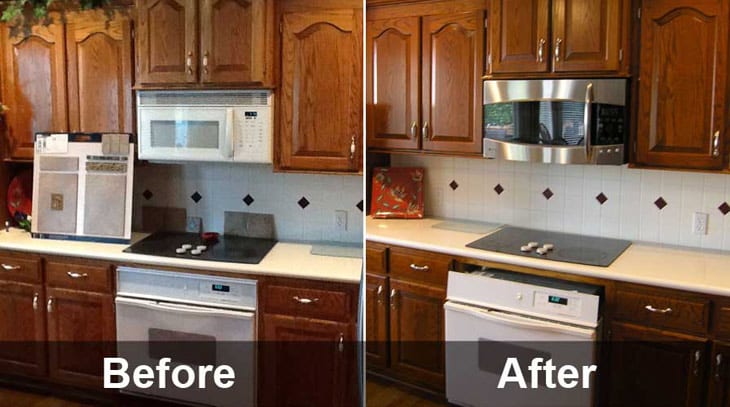 Refinishing vs. Replacement
After years of use, cabinets start looking shabby. When it's time for an update, you as the homeowner have to decide whether to refinish the existing cabinets or to replace them with brand new units. There are several factors to take into consideration before making this decision.
1. Cabinet Condition
Other than cosmetic issues, are you cabinets in good shape? The condition of your cabinets is the primary factor to consider before deciding between replacement or refinishing. Cabinets that are warped, water damaged, moldy, or structurally unsound must be replaced. Furthermore, refinishing is only an option for quality wooden cabinets.
2. Kitchen Layout
If you like the layout of your kitchen and want to keep the current configuration of your cabinets, refinishing is a good option for you. Alternatively, if you are lacking in cupboard space or wish the room was arranged differently, you should strongly consider cabinet replacement. A full-scale kitchen renovation is a major undertaking, but it is the only way to truly transform the layout of your kitchen. 
3. Cost
What kind of budget are you working with? In our experience, refinishing kitchen cabinets and installing new hardware can cost half as much as replacing everything. Furthermore, cabinet refinishing is far less of an inconvenience than a full-scale remodel. In a matter of days, we can leave you with a completely clean kitchen and like-new cabinets. Comparatively, replacement is a pricey undertaking that involves weeks of demolition and the inconvenience of not having access to your kitchen.
Request a Quote
For more information about our cabinet refinishing services, contact NU Tub at at (217) 522-1850 or request a free quote today. In addition to cabinet refinishing, we also offer countertop resurfacing. For a fraction of the time and money, we can transform your kitchen into a fresh, modern space that serves you well for years to come.