Kitchens are high-traffic areas that take a lot of heat, grease, and abuse. As such, many homeowners spring for a total kitchen remodel every 10 to 20 years. But if your cabinets are solid, why pay a fortune to replace them when you can refinish them for a fraction of the cost? If your kitchen is in need of a cost-effective facelift, call the experts at NU Tub. We provide professional, long-lasting results for a fraction of the time and cost of replacement.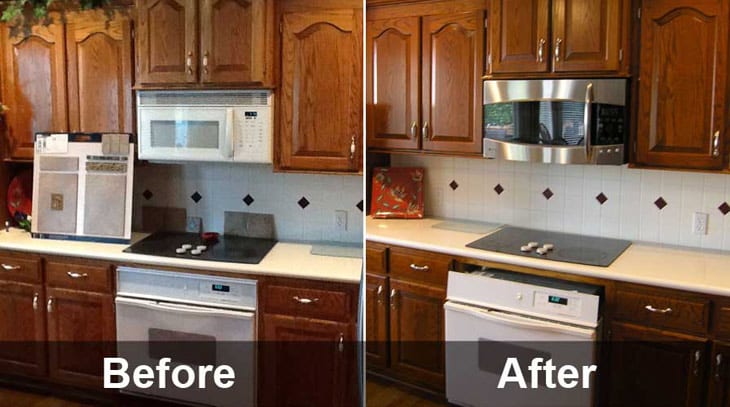 Can I Paint My Cabinets?
Cabinet refinishing involves much more than applying a coat of paint. While there are some nice varieties of cabinet paint available at home improvement stores, improper application and lack of experience can lead to less-than-perfect results. Many cabinets have laminate fronts that do not take well to sanding and painting. And solid wood cabinets, while easier to stain and/or paint, are still prone to warping, chipping, and peeling. If you are looking for high-end, customizable cabinets that look like new, professional refinishing from NU Tub is your best option.
What Is Refinishing?
For cabinets that are in good condition, refinishing is a great way to bring them back to life. Our refinishing experts will clean the cabinets to remove dust, grease, and grime. Next, we will fill in holes, cracks, and scratches with a wood filler, then sand the surface to prepare it for staining. Next, we will prime the surface and spray the cabinets with an industrial topcoat in the color of your choice. 
Benefits of Refinishing.
Kitchen remodeling projects are expensive, time consuming, messy, and take your kitchen out of commission for long periods of time. Alternatively, cabinet refinishing provides factory-quality results at a fraction of the time and expense. And, cabinet refinishing allows you to customize the look of your cabinets: we can restore the old color or change it completely! 
Request a Free Quote.
To learn more about cabinet refinishing, contact the team at NU Tub today at (217) 522-1850. We will gladly provide you with a free quote and complimentary consultation. In addition to cabinet refinishing, we also perform countertop resurfacing, bathtub reglazing, tub repairs, tub-to-shower conversions, and more. For homeowners in Decatur, Bloomington, Peoria, and beyond, your kitchen and bathroom upgrades have never been easier.
https://www.angieslist.com/articles/should-i-paint-or-refinish-my-kitchen-cabinets.htm
https://homeguides.sfgate.com/refinish-old-stained-kitchen-cabinets-43580.html